it's a pleasure to meet you
like a rainbow helps companies find their unique voice, develop an organizational brand strategy and define a narrative that fuels business growth.
We create digital infrastructures that enable employee storytelling, and take thought leadership into the digital sphere. And we bring the entire organization on board, transforming every member of the team into a business growth partner that contributes to driving the message, knows how to pitch the brand and owns the company's story.
It's not the content or the story you're sharing.
It's not even your company's incredible capabilities.
Leadership, especially today, is knowledge and vision sharing.
Real, clear, actionable, serious knowledge that
stands out and delivers value.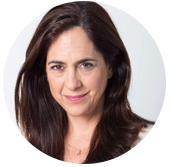 With almost three decades in brand strategy, advertising and media, developing creative communication brand strategy for the likes of Bank Hapoalim, Osem, Cellcom, Tnuva and other Israeli market leaders, Imi Eiron, co-founder and former CEO of Saloona, Israel's leading women-centric website and blogging platform, takes on a new challenge: redefining the essence of brands and organizations.
At like a rainbow, she and her experienced team of strategists, designers and content experts operate at the critical meeting point between business strategy, technology and communications, to help companies accelerate growth through a combination of brand strategy, storytelling and digital media implementation.